Matizer Premium Maintence
Kit Matizer Premium Maintence Treatment – Salles Professional, The Kit Matizer Premium Maintence. Nourishes and tones blond hair! It was developed to eliminate yellow spots of hair damaged and dried by chemical processes, leaving them naturally enriched by the Keratin and Panthenol Nutrients. Adds shine, softness and gently untangles the hair, contains proteins that help fix the color in the hair fiber.
Shampoo: Neutralizes unwanted yellowing and cools the tone. Discipline, ensures intense shine and more strength.
Conditioner: Helps maintain color in the correct shade while giving softness. It removes the stiffness of threads damaged by discoloration and ensures malleability.
Mask: Formula rich in pigments that reactivate the shine and promote a platinum effect.
Contains:
• Keratin: it is a fibrous protein produced by the body, responsible for 90% of the hair's constitution. This substance is able to guarantee resistance, strength and elasticity to the hair fiber because it is rich in amino acids.
• Panthenol: it is a powerful moisturizer. It is the precursor to pantathenic acid, a very important vitamin for hair health.
Step by step:
Apply shampoo all over damp hair and massage gently to foam. Then rinse thoroughly. If necessary, repeat the operation.
Use the conditioner on clean, damp hair, distributing it evenly. Then rinse.
Apply the mask on clean, damp hair after using the shampoo. Leave on for 3 to 5 minutes and then rinse.
Indication: For blond, bleached or gray hair
Effect: They act in the neutralization of orange tones in blond and bleached hair, and yellow tones in gray hair.
Available sizes:
Shampoo 1lt and 300ml
Conditioner 1lt and 300ml
Mask 300gr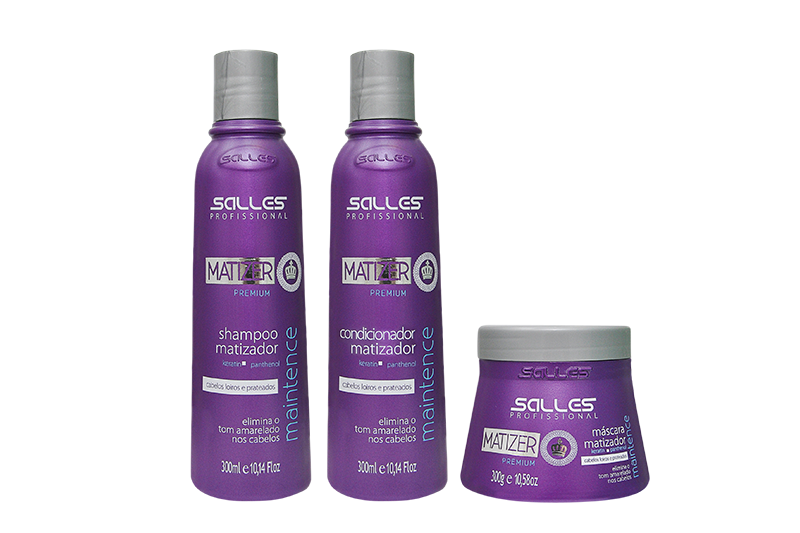 Matizer Oil 45 ml – Salles Professional
Powerful chemical potentiating treatment, designed to nourish and restore the hair fiber of damaged and dried hair by chemical processes. Seals the cuticles with softness providing extreme softness and intense shine. Natural source of vitamin E, fatty acids and omega 6 and omega 9 has fast absorption by the hair, eliminates split ends and frizz, protecting from heat, facilitating brushing offering a velvety touch and glamorous lighting. Indispensable when using the board.
How to use: Apply a few drops on the palm of your hand, spread and apply to the hair until completely absorbed.
Available sizes:
45ml
The Black – Salles Professional Tinting Mask was specially developed to mask the yellowish yellow, gray and white hair, caused by the action of time, nicotine, pollution, UV rays and coloring. Its effect is gradual and progressive, it contains nutrients in its formulation to not only neutralize the undesired tone but also moisturize the hair.
Contains:
• Argan
• Monoil Oil.
Step by step:
After washing your hair with shampoo, apply the Black-Salles Professional Mascara with damp hair, leaving it for 3 to 5 minutes. There is no break for a set time. Leaving the necessary time, depending on the height of tone that the hair is or until reaching the desired color. Rinse thoroughly and finish as desired.
Indication: For blond hair with highlights.
Effect: The mask has a black color, the effect on the blonde and leave with gray reflection as a toning effect, it does not contain ammonia.
Available sizes:
250gr and 500gr